Huffington Post
Made In Venice, the Year's Best Skateboarding Documentary, Opens in NYC
After Disneyland, Venice Beach is the most visited place in southern California. One major reason: the city is the capital of skateboarding culture. At the center of this capital is the Venice Skatepark, a world-renowned, 16,000 square foot oceanfront concrete skate Mecca designed and maintained by the man, the myth, the legend, Jesse Martinez, one of the pioneers of street-skating. The 20-plus year journey for this skatepark to come to fruition has been beautifully documented in Jonathan Penson's exhilarating new film, Made In Venice, which finally makes its (one night only!) New York City premiere on Thursday, May 25 at 8pm at the Village East Theatre (181-189 2nd Ave at 12th Street). The evening will feature a Q & A with Penson, Martinez, and Dan Levy of Juice Magazine.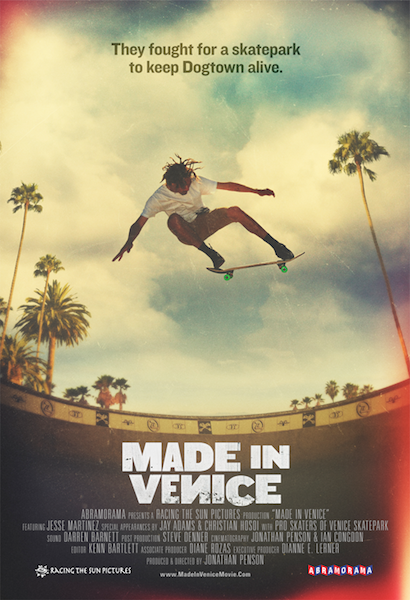 Dianne Lerner, Made In Venice's Executive Producer comments,
The International Olympic Committee has recently voted to include skateboarding as an official Olympic sport. It will be part of the 2020 Summer games in Tokyo. The fact that in our lifetime, skateboarding went from more or less an underground activity to something on the global stage, is absolutely incredible.
Gutsy and triumphant, Made In Venice, deserves to sit alongside 2002's heralded skate documentary, Dogtown and Z-Boyz. Penson's documentary is an all-American saga of hope. It makes you realize that when you fight for your creative vision no matter the odds, your goals will not only materialize, but generations to come, and the world at large, can benefit. This ragtag crew of skateboarders, surfers, and passionate locals had to convince the City of Los Angeles to build a skatepark in the area. The rest is modern skateboarding history.
The film's Co-Producer, Diane Rozas adds,
If you go to Europe, Japan or small town America, all skaters abide by the same code of ethics and conduct. They speak the same language: community, keep trying, never giving up. It's not a small thing, it's worldwide, but for many people it's still an under-the-radar world. I think that's changing though. There's a reason why as many as 5,000 fans at a time surround the Venice Skatepark to watch the skaters there.
Made In Venice also features never-before-seen Super-8 and video footage, along with rare black and white stills of the early skateboard scene in Venice. The film features a who's who of the pros, activists and icons that put the sport on the map including Martinez, Ger-I Lewis, Christian Hosoi, C.R. Stecyk III, Skip Engblom, Jay Adams, Jeff Ho, Aaron Murray, Scott Oster, Cesario "Block" Montano, Tim Jackson, Ray Flores, Eddie Reategui, Eric Britton, Dave Duncan, David Hackett, Joey Tran, Pat Ngoho, Bart Saric, Dan Levy, Jamie Quaintance and more.
Lerner notes,
By having this story told we are making a difference in changing lives and that is the most gratifying feeling. They didn't just build a skatepark, they built a world.